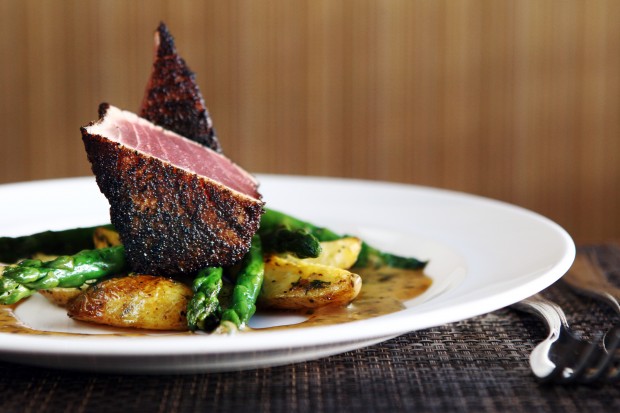 Tuna steaks served with asparagus, roasted potatoes and foyot sauce.
Serves 4
Foyot Sauce
1 1/2 cups (yes, cups) dried tarragon leaves
1 1/2 cups minced shallot
4 cups cabernet sauvignon wine
3 tablespoons veal demi-glace (
see note
)
6 tablespoons pasteurized egg yolks
1 1/2 teaspoons fresh lemon juice
1/16 teaspoon Tabasco
1/16 teaspoon Lawry's seasoned salt
3/16 teaspoon white pepper
salt
freshly ground black pepper
1/2 cup clarified butter, heated to 160-180 degrees
Tuna
4 (8 oz.) yellowfin tuna steaks, cut in 2-inch thick rectangles
4 tablespoons Char Crust seasoning (
see note
)
1/2 cup clarified butter, divided
8 spears fresh asparagus, blanched, cut in 3-inch pieces on diagonal
16 small Yukon gold potatoes, cut in quarters or sixths, roasted
Make foyot sauce.
In a saucepan, combine tarragon, shallot and wine, whisk to blend. Bring to a boil and reduce until mixture is reduced to 2 cups, the liquid will be gone but tarragon still moist. Add demi-glace and heat until mixture begins to bubble, stirring often. Keep warm.
In a food processor, process egg yolks, lemon juice, Tabasco, seasoned salt, white pepper and salt and pepper for 30 seconds. With machine running, slowly pour in hot clarified butter in a thin steady stream to form a smooth sauce with light to medium consistency. Add tarragon mixture to food processor and pulse briefly just to incorporate. The consistency should be like honey, thick but pourable. Keep warm but not hot.
Preheat oven to 450 degrees. In a large oven safe skillet, heat 1/4 cup butter until hot. Add asparagus and potatoes. Saute until hot. Place skillet in oven to keep warm.
Coat tuna on all sides with Char Crust seasoning. Heat 1/4 cup butter in a second large oven safe skillet until slightly smoking. Sear tuna on all sides, about 10 seconds per side. Place tuna in oven and cook for about 5 minutes or until tuna is medium rare (
the outer edge will be cooked, the center will be almost cool and uncooked
).
To serve J. Gilbert's style,
arrange asparagus and potatoes in the center of four plates. Cut tuna pieces in half on the diagonal, butt two pieces together like bookends with cut sides visible on top. Spoon foyot sauce around the plate.
Notes: Foyot sauce is a bearnaise sauce with a meat glaze added. Veal demi-glace is a rich flavored gelatinous sauce. Look for frozen in small tubs near the broths at some well stocked grocery stores.