Bella-Tini Cocktail:
1 ounce Belvedere Vodka
1/4 ounce Peach Schnapps
1 ounce peach purée
1/4 ounce lemon juice
Splash Grenadine
Combine all ingredients with ice in a shaker. Shake until well blended and strain into a Champagne flute. Top with Mas Fi Cava Sparkling Wine or Prosecco.
Margatini:
1 1/2 ounces Gran Centenario Anejo
1/2 ounce Grand Marnier
1/2 ounce lime juice
1/2 ounce orange juice
Fresh Lime
Pour ingredients into a shaker filled with ice. Shake well. Strain into a Margarita glass with a salted rim. Garnish with lime wheel.
The Stiletto Cocktail:
1.25 oz Hendrick's Gin
5 Fresh Blackberries
1 oz. Monin Sugar Free Syrup
.5 oz. Lime Juice
As needed Top with Diet Ginger Ale
Muddle blackberries with Monin Sugar Free. Add Hendrick's. Shake. Strain and pour into martini glass. Top with Diet Ginger Ale. Garnish with two blackberries on a black cocktail pick.
Stoli Bombshell Cocktail:
1.25 oz. Stoli Vanil Vodka
1 oz Fresh Lime Juice
.5 oz Sugar free syrup
.5 oz Sugar free raspberry preserve
1 Fresh raspberry
Shake all ingredients in a martini shaker with ice, strain into a martini glass, and garnish with a fresh raspberry.
Merry Maker's Cocktail:
1.5 ounces Maker's Mark
3/4 ounce Chambord
1/4 ounce Orange Juice
1/4 ounce Pomegranate Juice
1/4 ounce Cranberry Juice
Combine ingredients and shake in a martini shaker on ice. Strain into a martini glass and garnish with an orange wheel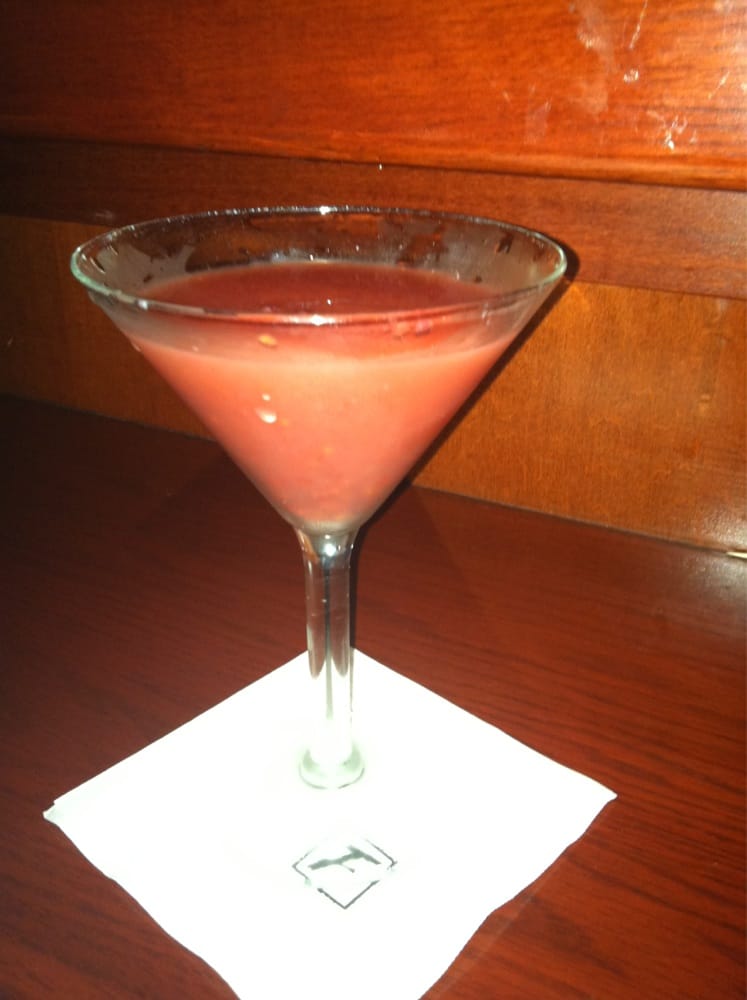 Tickled Pink Cocktail:
1 oz. Vodka
1 oz. sugar-free raspberry preserve
1 orange wedge squeezed and dropped into shaker
Prosecco
Shake ingredients together on ice. Pour 1-1/2 ounces of Prosecco into a martini glass. Pour the contents of the shaker into the martini glass with the Prosecco. Garnish with fresh raspberries.
Sailor Daiquiri:
1.5 ounces Sailor Jerry rum
1.5 ounces pineapple juice
.75 ounces fresh lime sour
Lime wheel
Pour all ingredients into a shaker with ice and strain the mixture into a martini glass. Garnish with a floating lime wheel.
Old Fashioned:
2 ounces Maker's Mark bourbon
2 dashes Angostura bitters
Splash of club soda
1 sugar cube
Orange slice
1 maraschino cherry
Place sugar, bitters and soda in a rocks glass; add fruit and muddle to preference; fill glass with ice and add bourbon