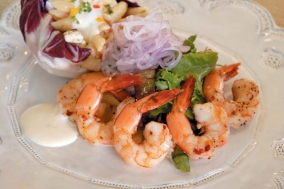 SHRIMP REMOULADE SALAD
Brennan's Steakhouse Recipe
Remoulade:
4 ounces Creole mustard
4 cloves garlic
1/2 onion
1/4 teaspoon of chopped parsley
1 egg
1 cup ketchup
2 ounces white vinegar
2 ounces Worcestershire sauce
1 tablespoon paprika
1 stalk celery
1 teaspoon salt
2 tablespoons Crystal hot sauce
2 stalks green onions, sliced
1/2 lemon peeled and deseeded
2 tablespoons horseradish sauce
1/4 cup salad oil
Puree all ingredients except oil and eggs together until smooth in food processor. Slowly add eggs, and then slowly incorporate oil. Makes 1 quart.
Remoulade Salad:
4 ounces shrimp for remoulade
3 ounces of cut, washed, and sliced romaine lettuce
2 (2 oz.) sliced rounds of yellow tomatoes
1 ounce breadcrumbs
1 ounce egg wash
1/2 ounce eggs, boiled and chopped for garnish
1 ounce apple smoked bacon, crispy garnish
1/8 ounce thinly sliced green onions
1 1/2 ounces of remolded dressing
Bread tomatoes with egg wash, flour, egg wash then bread crumbs, in that order. Fry until golden brown. To build salad, see chef.