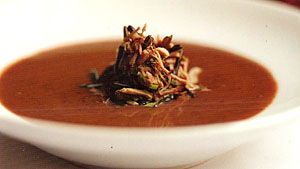 RED BEANS and RICE SOUP
Brennan's Steakhouse Recipe
Soup:
2 tablespoons vegetable oil
2 cups diced yellow onions
1 cup diced celery
1 cup diced bell pepper
4 cloves garlic, crushed
1/4 pound tasso ham, diced
1 pound dried red beans, rinsed and sorted
6 quarts water
2 tablespoons Louisiana hot sauce
2 tablespoons Worcestershire sauce
2 bay leaves
1 sprig fresh thyme
1 1/2 tablespoons kosher salt
1/2 teaspoon white pepper
Wild Rice Relish:
1/2 tablespoon vegetable oil
1/2 cup cooked wild rice
1/2 cup finely diced tasso ham
1 teaspoon minced chives
For the Soup:
Heat oil in a large saucepan over medium-high heat: sauté the onions, celery, bell pepper, and garlic for 4 to 5 minutes or until lightly browned. Add the ham; cook 2 minutes longer. Add remaining ingredients. Bring to a simmer; cover and cook for 1 1/2 hours or until beans are tender. Remove from the heat; puree with an immersion blender until smooth. Adjust consistency with water and adjust seasonings. If desired, strain through a medium mesh strainer.
For the Relish:
Heat the oil in a small sauté pan over medium heat; cook the rice and ham until heated through.
To Plate:
Spoon the relish in the center of warm bowls; ladle hot soup around it, trying not to disturb the rice. Sprinkle with chives.