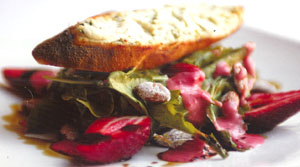 TEXAS STRAWBERRY SALAD
Brennan's Steakhouse Recipe
Salad:
1 baguette, cut into 1/2 inch diagonal slices
1/4 cup butter, melted
1/4 cup fresh cow's or goat's milk cheese, softened
1 teaspoon chopped fresh herbs (
thyme, basil and oregano
)
8 ounces mixed greens (
arugula, endive and mache
)
8 Texas strawberries, quartered
Texas Strawberry Vinaigrette:
2 cups Texas strawberries, quartered, divided
1 shallot, minced
2 tablespoons rice wine vinegar
1/4 cup vegetable oil
salt and black pepper to taste
Candied Almonds:
1/4 cup whole almonds
1 teaspoon vegetable oil
1 cup confectioner's sugar
For the Vinaigrette:
Puree 1 1/2 cups strawberries with the shallot and vinegar, using an immersion blender in a mixing bowl. In a slow stream, whisk in the oil to create a creamy emulsion. Adjust seasoning. Add the remaining strawberries Allow for flavors to marry a few hours before serving.
For the Nuts:
Toss almonds with oil. Place on a baking sheet. Bake at 350 degrees for 10 minutes, stirring every 3 minutes. Toss with confectioner's sugar. Cool and store in an airtight container until ready to use.
To Plate:
Dip the baguette slices in butter. Toast or broil until golden brown. Combine the cheese and herbs; spread over bread. Broil until hot and bubbly. In a large mixing bowl, Toss the greens, almonds, quartered strawberries and vinaigrette. Arrange on plates; top with toast.