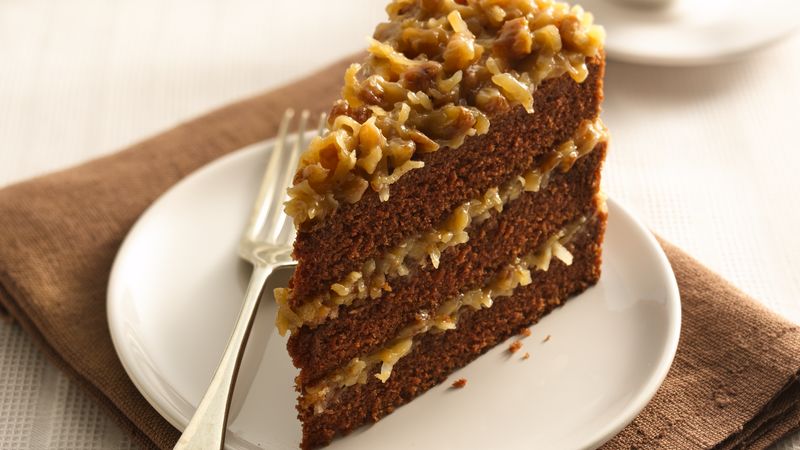 German Chocolate Cake
Stock Yard Restaurant Recipe
Serves 8-12
1 4-ounce package sweet baking chocolate
1/2 cup boiling water
2 1/4 cups all-purpouse flour, sifted
1 teaspoon baking soda
1/2 teaspoon salt
1 cup margarine
2 cups sugar
4 egg yolks
1 teaspoon vanilla extract
1 cup buttermilk
4 egg whites, stiffly beaten
Preheat oven to 350 degrees. Grease and flour three 9-ich cake pans. Melt chocolate in 1/2 cup boiling water, set aside and allow to cool. In a large bowl, cream the butter and sugar until light and fluffy. Add egg yolks one at a time, beating well after each addition. Blend in vanilla and melted chocolate.
Sift the flour with the baking soda and salt, add alternately with buttermilk to the chocolate mixture, beating after each addition until smooth. Fold in the beaten egg whites. Pour the mixture into the prepared cake pans and bake for 25 to 30 minutes. Cool completely before frosting.
Coconut Pecan Frosting:
1 (12 oz.) can evaporated milk
1 1/2 cups sugar
3/4 cup margarine
4 egg yolks, slightly beaten
1 1/2 teaspoons vanilla extract
2 cups coconut, grated
1 1/2 cups chopped pecans
In a large saucepan combine the milk, sugar, margarine, egg yolks and vanilla. Cook, stirring constantly over medium heat, for about 12 minutes until the mixture stiffens. Remove from the heat. Stir in the coconut and pecans. Beat until cool and frosting reaches spreading consistency.