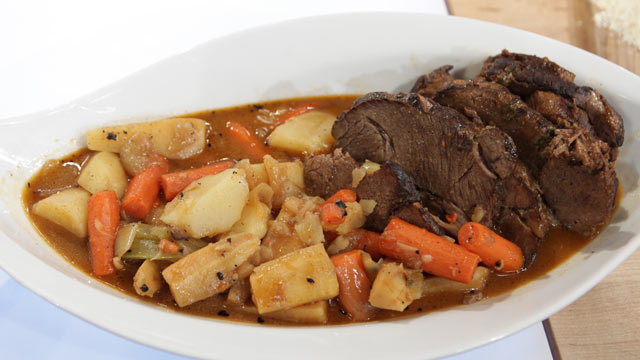 Southern Pot Roast With Vegetables
Stock Yard Restaurant Recipe
Serves 6
3 pounds chunk or rump roast
2 tablespoons oil
2 cups water
2 teaspoons salt
1/4 teaspoon ground black pepper
1 bay leaf
3 medium onions, sliced
3 stalks celery, chopped
6 medium carrots, peeled, cut into pieces
4 potatoes, peeled, halved
In a large dutch oven heat the oil, add the meat and brown it on both sides for about 15 minutes. Add the water, salt, pepper and bay leaf. Cover and simmer for 2 1/2 hours or until the meat is tender.
Add the onions, celery, carrots and potatoes and simmer for 45 minutes to 1 hour more or until vegetables are tender. Remove the meat and vegetables to a platter.
If desired, thicken the juice with 3 tablespoons of flour mixed in 1/4 cup water. Stir the flour and water mixture into the pan and cook until mixture comes to a boil, stirring constantly. Serve with the meat.